By 2050 there will be more plastic than fish in our oceans. This clearly is not something to be proud of, and to make matters worse, One million plastic bottles are being sold EVERY MINUTE increasing our plastic bottle consumption to a staggering 583,3 billion bottles in 2021.
But you can help change that. Pick up a FREE Beach Tote and swanky new aluminum water bottle at Aquaporin HQ – Nymøllevej 78, 2800 Lyngby – and join us in our fight against plastic bottle consumption this summer. It is only a stone's throw from DTU to make a difference.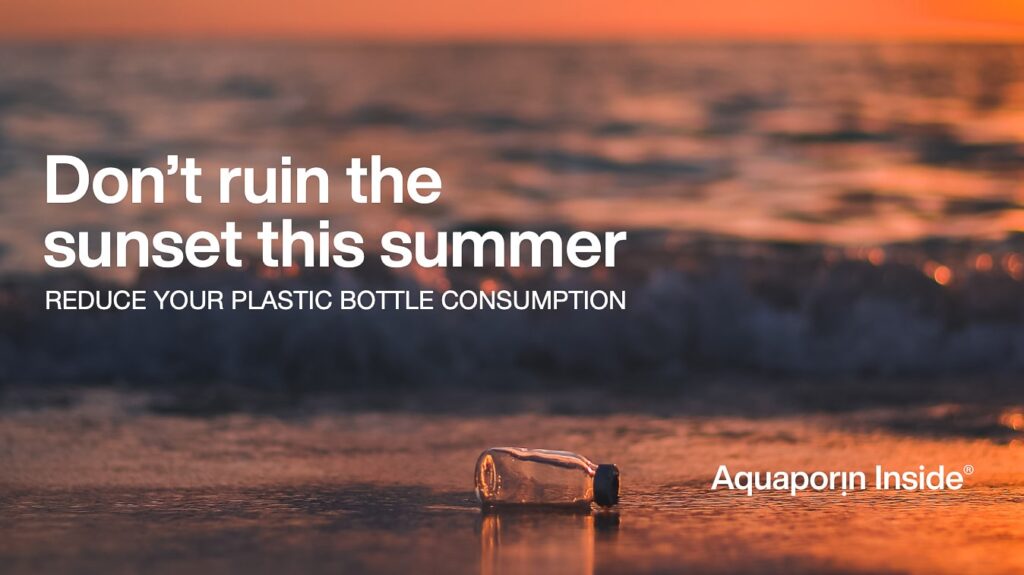 At Aquaporin we remain committed in our fight against plastic pollution by making pure tap water a valid option. This summer we will let you experience our groundbreaking technology if you study at DTU Science Park.
With our "My water is purer than yours summer kit", you are invited to stop by Aquaporin HQ, and fill your water bottle every time you are on your way to the beach or a cosy picnic.
This way you can experience clean, pure water as nature intended it to be, and you help in eliminating the microplastics you consume through normal tap water. Simultaneously you are also reducing plastic bottle consumption on our beaches.

Pick up your beach bag
You can pick up your free beach-bag including a reusable water bottle in the reception at Aquaporin's headquarter, Nymøllevej 78, 2800 Kongens Lyngby.
Moreover you have the option to refill your bottle FOR FREE with Aquaporin Inside® every day all summer, Monday – Friday from end-June to mid-August between 8am-4pm at the same address.
Help us spread the message
HELP US SPREAD THE MESSAGE in saving our oceans and beaches through your summer adventures with your new summer kit. Post your summer pictures with our beach bag and water bottle and use the #followthedoubleii
Contact person: Anette Svane Vestergaard, email: asv@aquaporin.com