Drinking water
Let's meet at Aquatech Amsterdam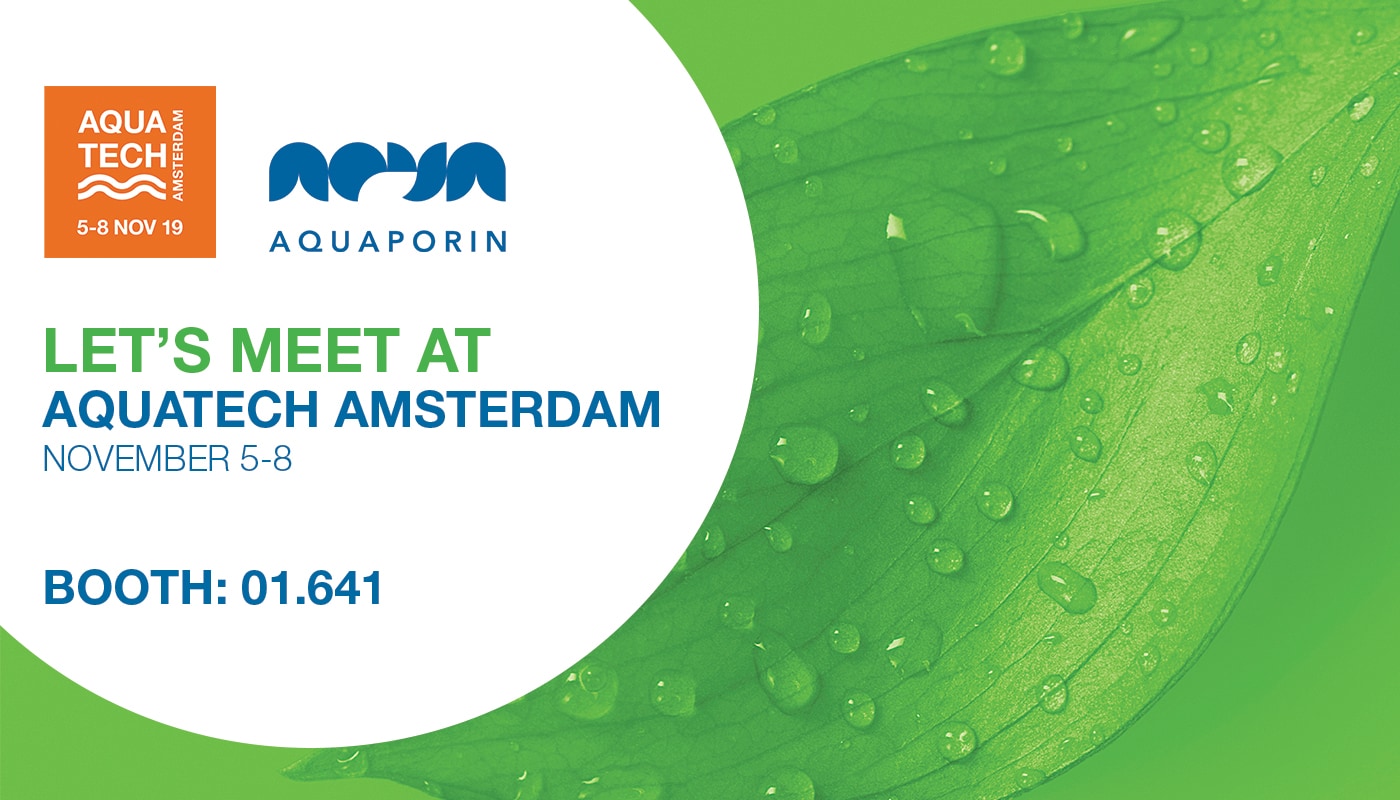 We look forward to seeing you and talking about water and the best way to treat it!
Clean water is a human right states the UN, and that is also Aquaporin's belief. We have a twofold approach to it; for industries we need to secure water-reuse and prevent pollution, and from a consumer perspective we need to make sure people have clean tap water.
Therefore, we would like to talk to the Aquatech Amsterdam participants about water treatment from an industrial and consumer perspective.
From the industrial perspective we look forward to discussing:
the challenges society face with micro pollutants and xenobiotics
how is the huge environmental issue of the presence of pesticides, pharmaceuticals, chemicals, etc addressed and dealt with at the source?
how can we reuse water, minimize waste, and achieve ZLD?
From a consumer perspective, we are keen on exploring how we can make people choose tap water over bottled water. Different facts and statements tell us that we have miles to go, and we look forward to hearing how they are perceived among the Aquatech participants. For instance:
According to the World Health Organization, taste and perception influence how likely you are to accept your home drinking water.
35% of Europeans (50 million households) do not drink their tap water (filtered or not).
In China, most consumers perceive the public tap water quality to be insufficient for human consumption.
About half of the Americans not drinking tap water state that the taste is a big influencer.
Due to the lack of access to clean or drinkable tap water, we spend a lot of resources on transporting bottled water all over the world.
What do you believe?
Stop by Aquaporin's booth #01.641 and explore how we help clients treat the industrial challenges and how we can create likeability for drinking tap water. We look forward to greeting you!
About Aquaporin
Aquaporin A/S is a water technology company headquartered in Copenhagen, Denmark with activity in Europe, US, Singapore and China. Our company is dedicated to revolutionizing water purification using industrial biotechnological technique and thinking. We are a global leader in developing, producing and marketing biomimetic membranes for industrial and consumer water applications based on nature's own water filtration system – the highly selective and efficient aquaporin water channels. The Aquaporin Inside platform uses biological principles in a technological context to create a novel technology with large commercial perspectives, which is capable of separating and purifying water from all other compounds.
About Aquatech Amsterdam
Aquatech Amsterdam is the world's leading water trade show for process, drinking and waste water. It connects over 25,000 water professionals from over all over the world in the exciting city of Amsterdam.
It takes place on November 5-8, 2019 and holds 4 action-packed days that provide the ideal platform for making profitable business relationships, exchanging ideas and enhancing know-how.
Read more about Aquatech Amsterdam here.