Industrial
Aquaporin proves itself in the pharma industry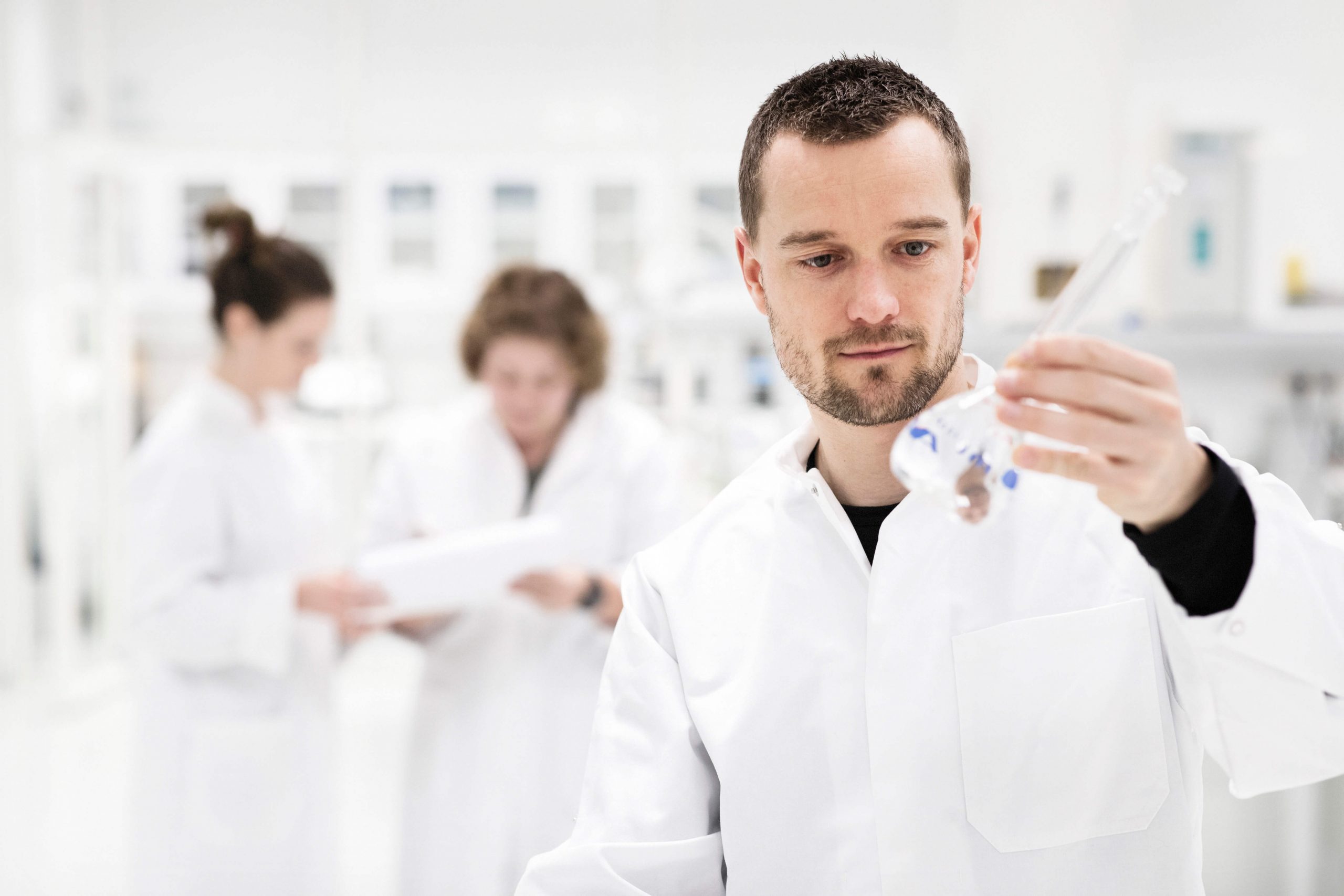 When it comes to purification, you can't get much more demanding than the pharmaceutical industry. Our participation in the DiViNe project shows our technology can meet pharma's exacting requirements, while also reducing water consumption in purification processes.
The EU-sponsored DiViNe project brought together six companies to find a solution to a global problem: How to make vaccine production cheaper and less water consuming.
Currently, purification accounts for up to 80% of the manufacturing costs of most biological drugs. Vaccines are no exception. Any contaminants must be removed via multiple elimination steps, which means yields are low, production is expensive and water use is high. The cutting-edge DiViNe solution uses affinity chromatography and two protein technologies – Nanofitins® and Aquaporin Inside® – to increase vaccine recovery yields 3-to-5 fold, which could significantly reduce basic production costs in the future. "With this project, it is the first time forward osmosis has been used during vaccine purification".
The five-year project was supported by Horizon 2020, the EU's biggest research and development program.
"More affordable vaccines that preserve water are very valuable, especially for manufacturers in emerging countries. We developed a method that can be used in the future to design customized, affordable and industry-compliant vaccine purification," says Olivier Kitten, Founder & CEO of Affilogic and project coordinator of DiViNe.
He continues. "The DiViNe project served as a platform to demonstrate that novel affinity chromatography and incorporated Nanofitin® ligands can simplify the vaccine purification process, reducing the four purification steps to one-single step. This improvement has the potential to significantly lower production costs. Moreover, by implementing a water recycling step using the Aquaporin Inside® membranes, water usage could be further lowered by 20-30%."
Affinity chromatography in a nutshell
One of the biggest issues in vaccine production is separating the vaccine target, such as a protein, from its environment. This is where affinity chromatography comes in.
Put simply, affinity chromatography enables the interaction of a biological mixture containing the vaccine target with a solution that contains a ligand – a molecule specifically chosen to bind with the vaccine target. Once the ligand and target are bound, the other impurities are washed away using a buffer solution, which is a mixture of water and salt.
Reducing water use
Despite its increased efficiency, affinity chromatography still uses vast amounts of buffer solution, which is why we brought in the aquaporins. Naturally present in every living cell, aquaporin proteins selectively transport water – and only water – into the cell from the surroundings and vice versa. Aquaporin remains the only company to use aquaporins to purify water. Today, Aquaporin Inside® purification membranes are being employed in a wide range of household water purification systems and industrial applications.
For the DiViNe project, the Aquaporin team employed a forward osmosis purification system. Unlike reverse osmosis, which uses hydraulic pressure to force water across a purification membrane, forward osmosis uses natural osmotic pressure to draw clean water across the membrane – leaving the contaminants behind. The process uses far less energy than more common reverse osmosis systems and, partly due to the efficiency of the Aquaporin Inside® membrane, can vastly improve water recovery rates.
"This is the first time that forward osmosis has been used during vaccine purification. We have proven we can save an absolute minimum of 30% of the water. And, because no contaminants travel into the extracted water, it's possible to loop the final buffer solution back into the process. With this new achievement, water reduction and reuse during vaccine purification, and biopharmaceutical manufacturing in general, could soon become a reality," says Maria Salud Camilleri Rumbau, Senior Membrane Applications Specialist, Ph.D. at Aquaporin.
What's next?
The project will now grow in two directions. The project partners will continue to work together in order to start implementing the technologies in commercial vaccine processes. At the same time, the technologies will be used to develop even more integrated and disruptive purification systems for the needs of tomorrow, such as small-scale production for personalized products and innovative new products with complex production processes.
Find out more
You can read much more about the project, including the working process and final results here.
Meet the DiViNe team
The DiViNe project brought together six companies from five European countries.
Merck KGaA supplied its proven affinity chromatography column.
Affilogic supplied the Nanofitin® ligands, artificial proteins that can be tailored to specific targets.
GlaxoSmithKline supplied the vaccine targets and also ensured that the new purification process would meet industrial needs.
Aquaporin provided its technology for water recycling and reusability, including its Aquaporin Inside® membranes.
iBET contributed an enveloped viral candidate vaccine and process development.
GenIbet Biopharmaceuticals was responsible for all validation and compliance requirements.