People
Laying the foundation for a water recovery at ESA's future Lunar Gateway Space Station and other spacecraft systems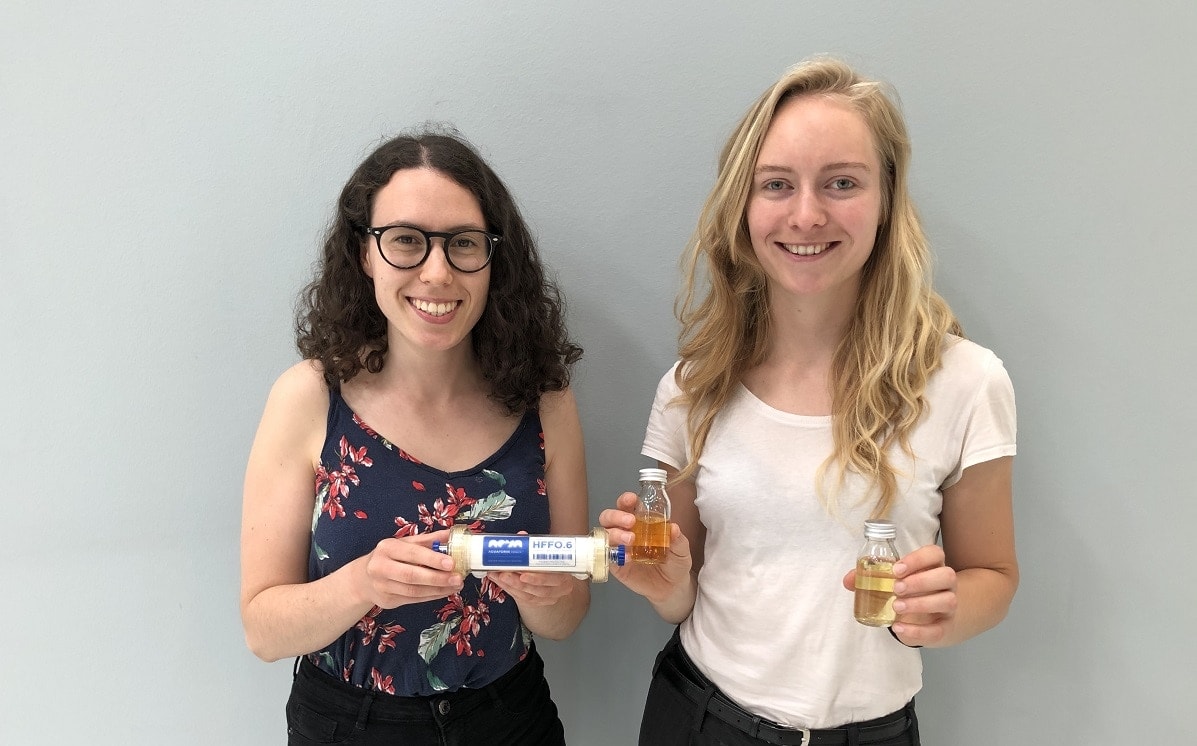 Our students, Emma Christina Ekebjærg and Eva Hvalkof Andersen from The Technical University of Denmark just finalized their Bachelor Thesis Project. In this blog post they explain about the project and how it was being a part of Aquaporin Academy.
The background for our bachelor thesis was ESA's and NASA's plans to build a Lunar Gateway Space Station. As transporting water into space is costly, it is essential that a water recovery facility is implemented on the Gateway. A promising water recovery facility is an FO/MD-membrane unit.
The aim of the Bachelor Thesis
The aim of our bachelor thesis was to test and optimize the FO/MD-membrane unit developed by the Aquaporin Space Alliance (ASA)with the purpose of maximizing water recovery from a 50:50 urine/condensate mix. The FO/MD-membrane unit consists of the Aquaporin Hollow Fiber Forward Osmosis Membrane Module and Memsift's Membrane Distillation Module. Unfortunately, due to the Covid19 pandemic, we were never able to test the MD-module. Instead, we focused on the FO-module and conducted the following tasks:
Evaluated methods for pre-treatment of urine
Tested total nitrogen rejection behavior of the forward osmosis extraction unit
Investigated membrane cleaning and the effects of dormancy periods
Literature review of the MD-module
Studied the lifetime of a NaCl draw solution
Cost-benefit analysis of re-mineralization solutions concerning the treated urine/condensate mix
The conduction of tests and data
Laboratory experiments and membrane tests were conducted at Aquaporin A/S' facilities in Kongens Lyngby during the first half of 2020. The thesis and its experimental data is part of a project conducted by the ASA in collaboration with the European Space Agency (ESA). ASA is a joint venture between Aquaporin A/S and Danish Aerospace Company.
Being a part of Aquaporin Academy
We have truly enjoyed our time at Aquaporin A/S! The atmosphere was inspiring to work in and the people were both welcoming and helpful whenever questions arose. We are both very grateful for the opportunity to contribute to the ASA's project regarding water recovery in space. It has given us a perspective as to what our future as an engineer might look like.
The Aquaporin Academy was an amazing addition to our bachelor thesis experience. Having other students to lean on and bond with only motivated us more. Furthermore, having the opportunity to present our findings and rehearse our defense really improved our overall bachelor assessment.
Published on
July 2020
in
People