Corporate & Events
Breaking the stigma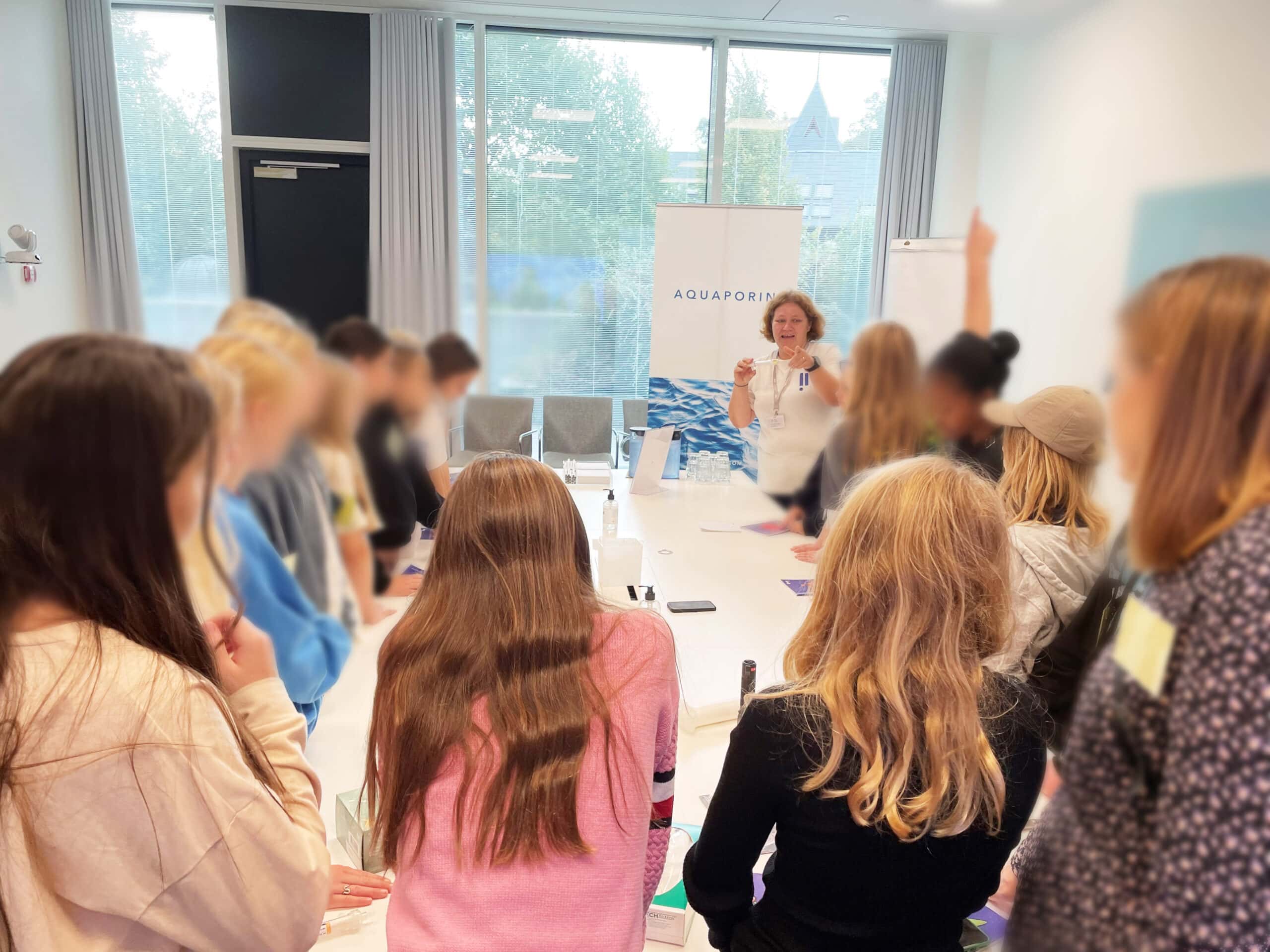 Charles Darwin, Albert Einstein, and Isaac Newton are just some of the names that you probably know. It is also a list of three well-known male scientists, but can you mention three female ones? Aquaporin wants to create the scientists of the future and get more females into a field that historically is thought of as male-dominant.
Changing the narrative and making girls more likely to explore the field of science is why an event like "Girls' Day in Science" is important for Aquaporin. This year marked the tenth anniversary of "Girls' Day in Science" where young girls get to meet female role models and get inspired about chemistry, engineering, and science. More than 100 girls visited the Aquaporin minilab during the day, and more than 6000 girls are participating nationwide in Denmark.
In 2022 Aquaporin highlighted how a biotech company focused on filtering water plays a big part in the European Space Agency mission which will send the Danish astronaut Andreas Mogensen into space again in 2023. This year, Chemical Process Engineer Ingrid Helgeland and Laboratory Officer Erica Key presented the Aquaporin projects and experiments – as well as equipment that had been into space on Andreas Mogensen's first space mission in 2015.
Skepticism turned into curiosity
At first glance, the many girls visiting us were slightly skeptical when we told them, that astronauts are drinking their own urine. After getting to know the technology and conducting experiments showcasing the power of the membrane something happened for the girls.
Seeing how different solutions would affect gummy bears and how the Aquaporin-membranes could filtrate water from a fruit-colored solution were among the experiments the girls got to try.
The skepticism was replaced by curiosity, loads of questions, and girls taking pictures of their very own experiments. At Aquaporin, we believe in empowering people, and at "Girls' Day in Science" we wanted the girls themselves to experience how science can fascinate and inspire.
During the presentations, Ingrid and Erica got the chance to tell the many girls how they ended up in science and what inspires them in their everyday work. Ingrid Helgeland was very excited about hosting so many interested girls.
"It is just so much fun meeting all the girls, and I keep getting amazed at how fast they understand the basics of osmosis and how clever questions they ask after only just getting to know this topic. I hope we have inspired some girls to join the big beautiful world of science and technology - they would for sure fit in very well"

Ingrid Helgeland, Chemical Process Engineeer, Aquaporin
For Erica Key it was particularly amazing to see how the girls got more and more interesting as the day progressed.
"Seeing how the young girls light up when learning how fun science can be is a great boost. It gives energy to both the girls and to us as presenters and is a great reminder that the work we do at Aquaporin is both exciting and important"

Erica Key, Laboratory Officer, Aquaporin
The girls from the 4.-6. grade all got a batch of gummy bears with them home so they could try and show the experiments they tried at the Aquaporin minilab in Industriens Hus.