Space
TV host Josefine Høgh tests Aquaporin's space technology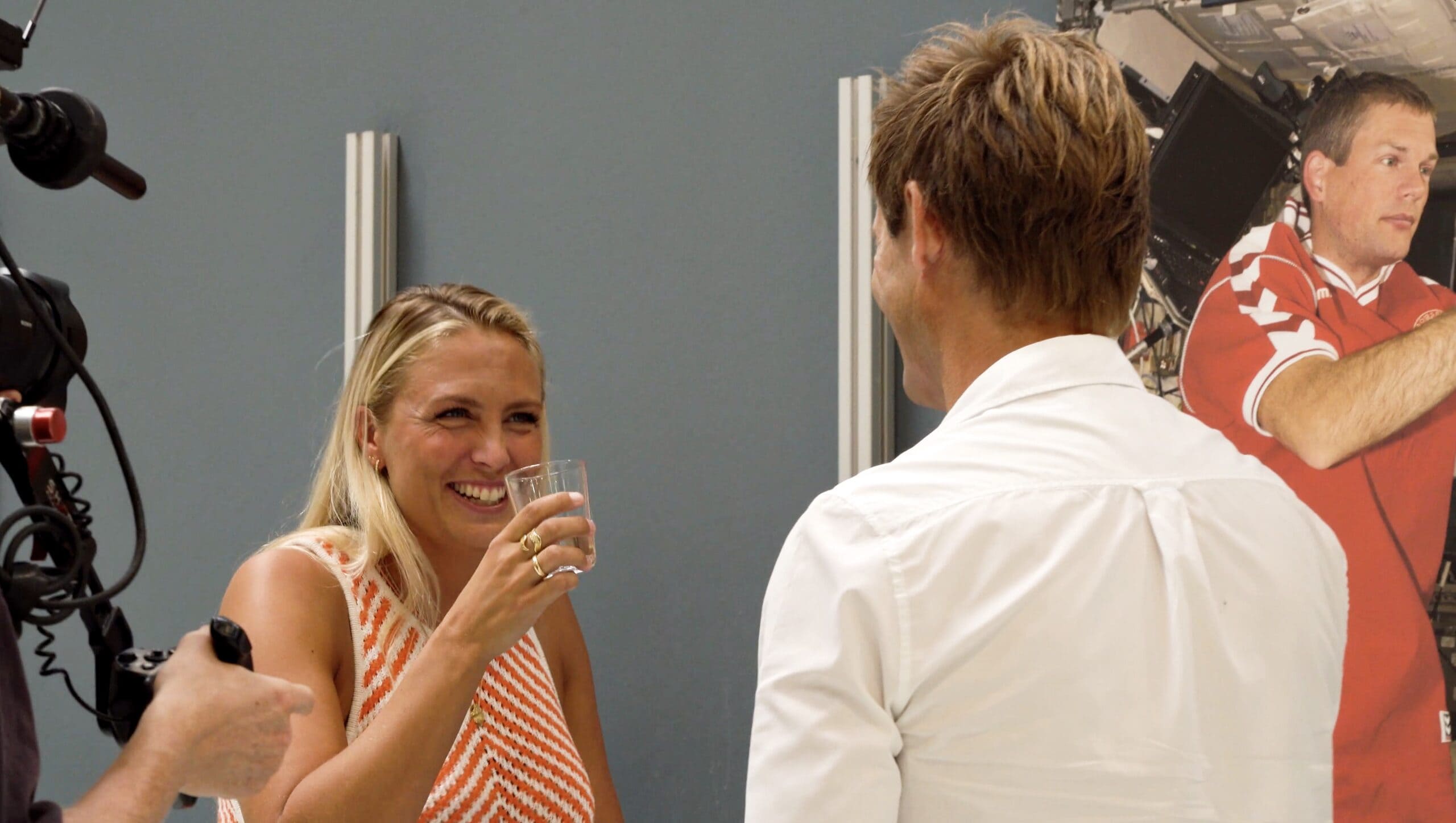 In the new space documentary series "Klar til rummission"/"Ready for Space Mission", the Danish journalist Josefine Høgh apprentices as an astronaut under the guidance of the Danish astronaut Andreas Mogensen who will lead the Huginn mission for takeoff on August 17, 2023.
In the series, Høgh follows Mogensen closely in the six months leading up to his stay on the International Space Station (ISS).
Paving the way for longer space missions
"When they called me from DR and said 'by the way, you're also supposed to do an experiment where you drink your own pee', my instant thought was 'okaaay, was this what I said yes to?'" Høgh says and laughs. And yes, this was exactly what she agreed to when she volunteered to try some of the research projects Mogensen will be doing in orbit later this year. One of Mogensen's projects is to test Aquaporin's water filtration system which enables astronauts to recycle all liquids onboard spaceships – including their own urine.
"Everything they have up there stays up there. So, the more you can reuse, the better. It's a way to ensure they stay alive – also on longer missions than to ISS."

Josefine Høgh
Høgh has previously talked to Mogensen about his ultimate dream of going to the moon. She continues:
"When you are just a mortal here on Earth with access to clean drinking water directly from the tap, it can be difficult to understand the importance of recycling liquids, but it simply makes so much sense for those in space who do not have the same conditions as us, and if we are to realize space missions to Mars in the future, it is a must."
Aquaporin's Chief Innovation Officer, Peter Holme Jensen, who hosted Høgh on her visit to Aquaporin, said in his interview for the space documentary that "being able to reuse water is probably one of the most essential prerequisites to explore more of space than we do today."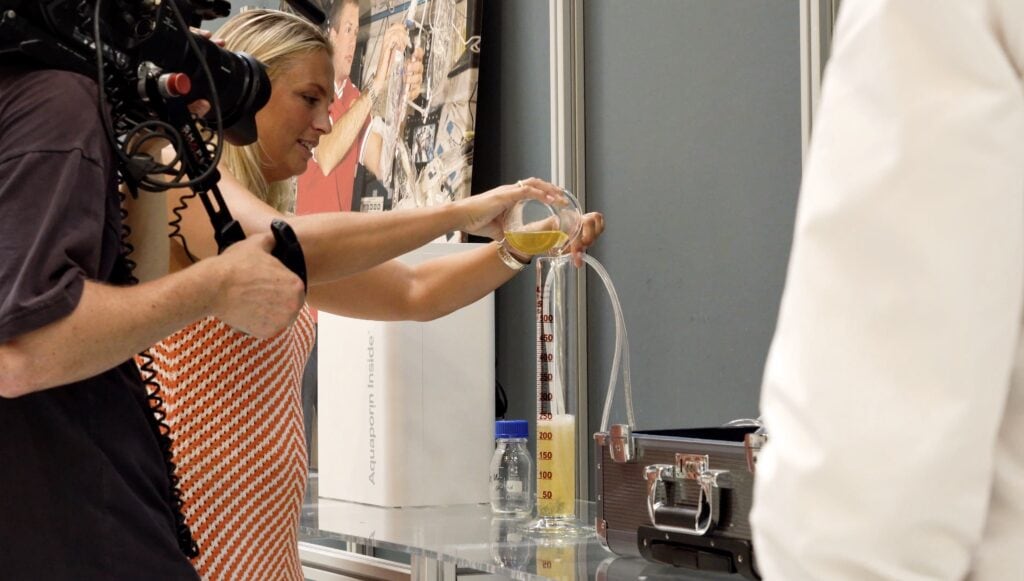 A remarkable and fun challenge
Despite the higher purpose, it was still a challenging experience for Høgh to drink her urine, and the preliminary preparations were a bit crazy, she says. Before coming to Aquaporin, Høgh was asked to deliver some of her urine so Aquaporin's scientists could filter it into clean drinking water by using the same technology and tools as Mogensen will be using on the ISS.
Sitting at home collecting her urine and storing it in the fridge was an unusual task for Høgh. And when someone came to her home to pick up her urine and deliver it to Aquaporin, her husband had to hand it over. Something they both found quite comical.
"Of all the challenges I was faced with when recording the series, drinking my own pee – although filtered – was definitely one of the most remarkable and fun ones. When I came to Aquaporin, I was asked to pee again, this time with the cameraman waiting outside the door, and obviously, I couldn't under such pressure," Høgh says with a laugh. Her skepticism was unmistakable before she took the first sip of her urine filtered into clean drinking water, but luckily it fell to the ground when she realized it tasted just like any other glass of water.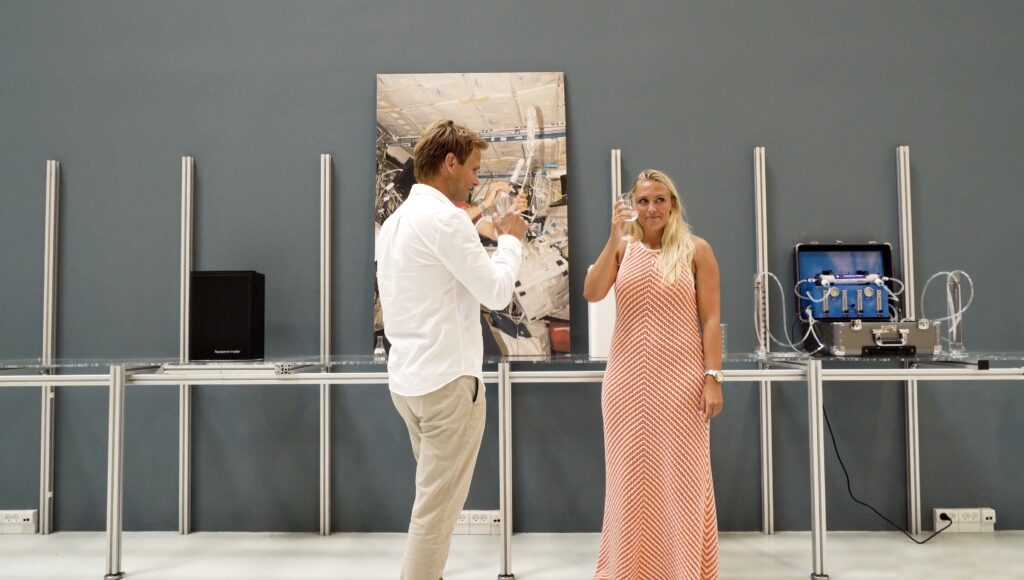 Andreas Mogensen is a wild human being
To Høgh, trying out the experiments on her own body makes her understanding of space technology even deeper. Because she is not a space expert, Høgh believes she represents "ordinary" people and their wonderings quite well. The ones who would like to know a little more about space, and the ones who – like her – think it is a little crazy that a Danish astronaut is going into space. Again.
"It's been a huge privilege to get such a close insight into a world that is so unusual and difficult to access. So much of what they do is confidential, so following Andreas closely in his training and preparations for the Huginn mission has been crazy, exciting, and very fascinating. I think he is a wild human being."

Josefine Høgh
The space series is made by the Danish TV channel DR and has a total of 6 episodes. The episode featuring Aquaporin's space technology will be broadcasted at 21:25 on July 17 and can be streamed on DRTV from the same date.
Published on
July 2023
in
Space