Drinking water
Here's how water purification companies can avoid supply chain bottlenecks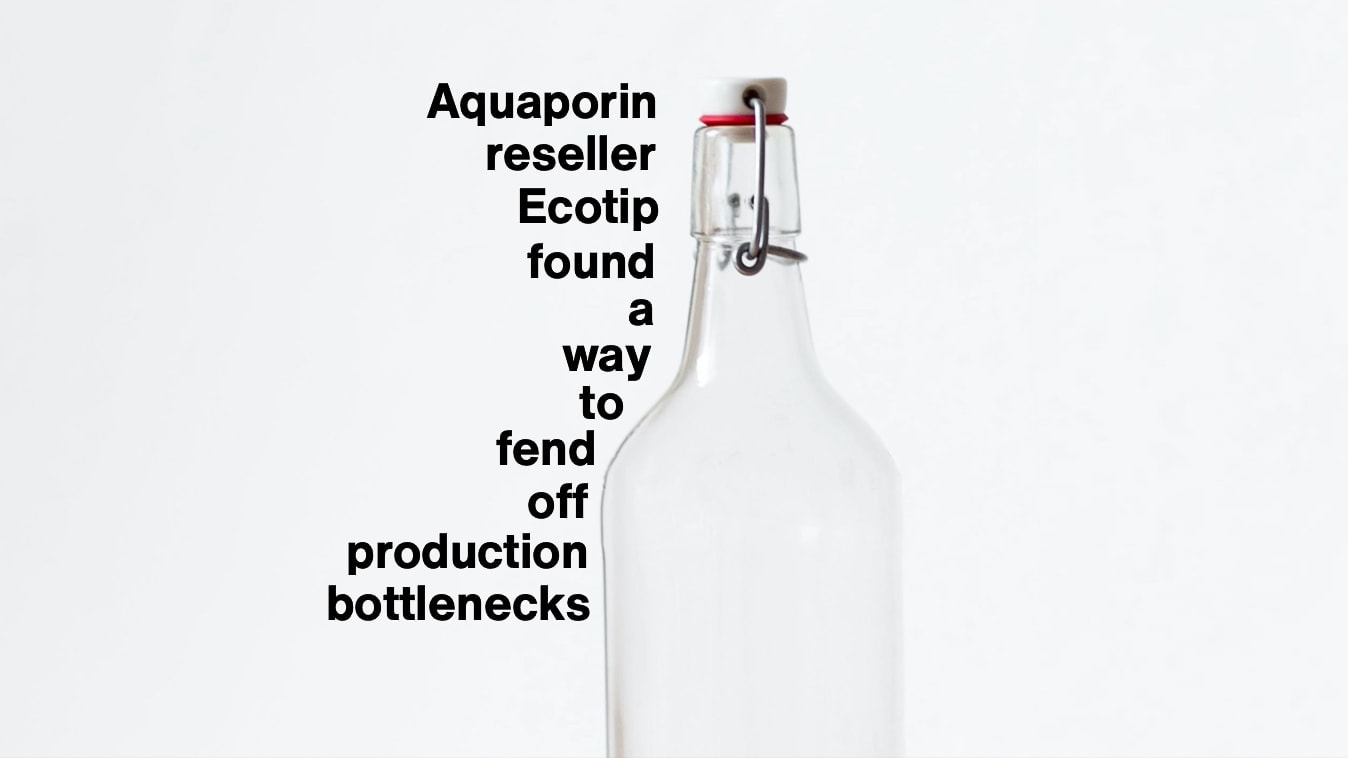 Global supply chains are under pressure and water purifier companies often need to find new solutions to secure a reliable supply of membranes. Learn how Aquaporin reseller Ecotip found a way to fend off the bottlenecks.
Slow deliveries, supply chain bottlenecks, and sky-high shipping rates are just some of the problems water purifier companies face today. Many struggles to fill the shelves, resulting in impatient customers and lost market share.
One of the water professionals who has encountered these problems firsthand is Ilija Andreevski, CEO and founder of Ecotip, an international water purifier company operating in seven countries across Eastern Europe.
Ecotip helps both industry and individual households purify their water to perfection. Headquartered in Skopje, North Macedonia, Ecotip has been an Aquaporin reseller in the Balkans, Austria, and Hungary since the beginning of 2021. And it all started because Ecotip was looking for a solution to the global supply chain issues.
– Some of our suppliers were not able to ship all the membranes we needed. And at the same time, we saw a greater performance and bigger storytelling potential in Aquaporin. Since then, we have only deepened our relationship, says Ilija Andreevski and continues:
– Aquaporin not only provides high-quality water purification filters. Their unique supply concept makes sure that we can always receive the elements we need.
Customized supply
While many membrane suppliers plan their production years in advance, Aquaporin's customer-tailored supply concept is updated on a weekly basis, constantly keeping track of demand, enabling Aquaporin to prepare new shipments on short notice.
The customized, customer-focused supply concept, which is offered to all Aquaporin Premium Resellers, is based on a close relation to the reseller with frequent follow-ups to create the most precise supply forecasts.
– Because of the constant dialogue with Aquaporin, their team is aware of our needs and can fulfill them immediately, says Ilija Andreevski and continues:
– Our products are extremely important to our customers, and we must guarantee their quality and supply. To have a European partner whom we trust can deliver on quality and supply is very important to us.
A clear differentiator
Every Aquaporin reseller benefits from Aquaporin Inside® technology. Put simply, the technology uses aquaporin proteins to replicate nature's own water filtration process. Placed within the cell membrane, aquaporin proteins transport water – and only water – in and out of the cell.
Billions of years of evolution have made aquaporins extremely efficient and highly selective, like a natural superhighway for water. This aspect gave Ecotip a chance to differentiate themselves compared to competitors on the market.
– Aquaporin gave us a differentiator in our storytelling that we wanted to explore. It is a great strength for us to be able to tell our customers that we are using nature's own solutions to filter the water, says Ilija Andreevski and pinpoints why:
– During recent years, people have become more aware of what they eat and drink. And we believe we must find products that cater to this awareness.
Want to learn more?
If you are interested in knowing more about how Aquaporin can bring new life to your marketing effort, meet Ed Renner, VP of Brand and Marketing at Aquaporin. He will give you concrete marketing tips which you can put into action when using Aquaporin Inside® Drinking Water Membranes to enhance your brand. Download the video here.